Yet to deposit Rs 2000 currency notes in bank? Amazon accepting withdrawn currency under 'cash load at doorstep' service — check how to use, limit, other details
Amazon Pay has introduced a 'cash load at doorstep' service, through which customers can hand over additional cash or leftover change to the delivery agent to load the same to their Amazon Pay balance during a cash-on-delivery order. This move will relieve customers who otherwise have to go to the bank to deposit Rs 2000 notes. Rather customers can now be in the comfort of their home and pay Rs 2000 for products of any amount and the rest will be added to their Amazon Pay Balance.  
Customers can deposit cash of up to Rs 50,000 per month, including notes of Rs 2,000 denomination. "The facility to top up your Amazon Pay balance with cash handed to delivery agents at your doorstep is one of our unique services in India available to full KYC-ed customers. Staying true to our mission, we will continue to provide holistic experiences to our customers by facilitating such simplified solutions and further catalyse the digital payments revolution in India," says Vikas Bansal, Whole-time Director, Amazon Pay India.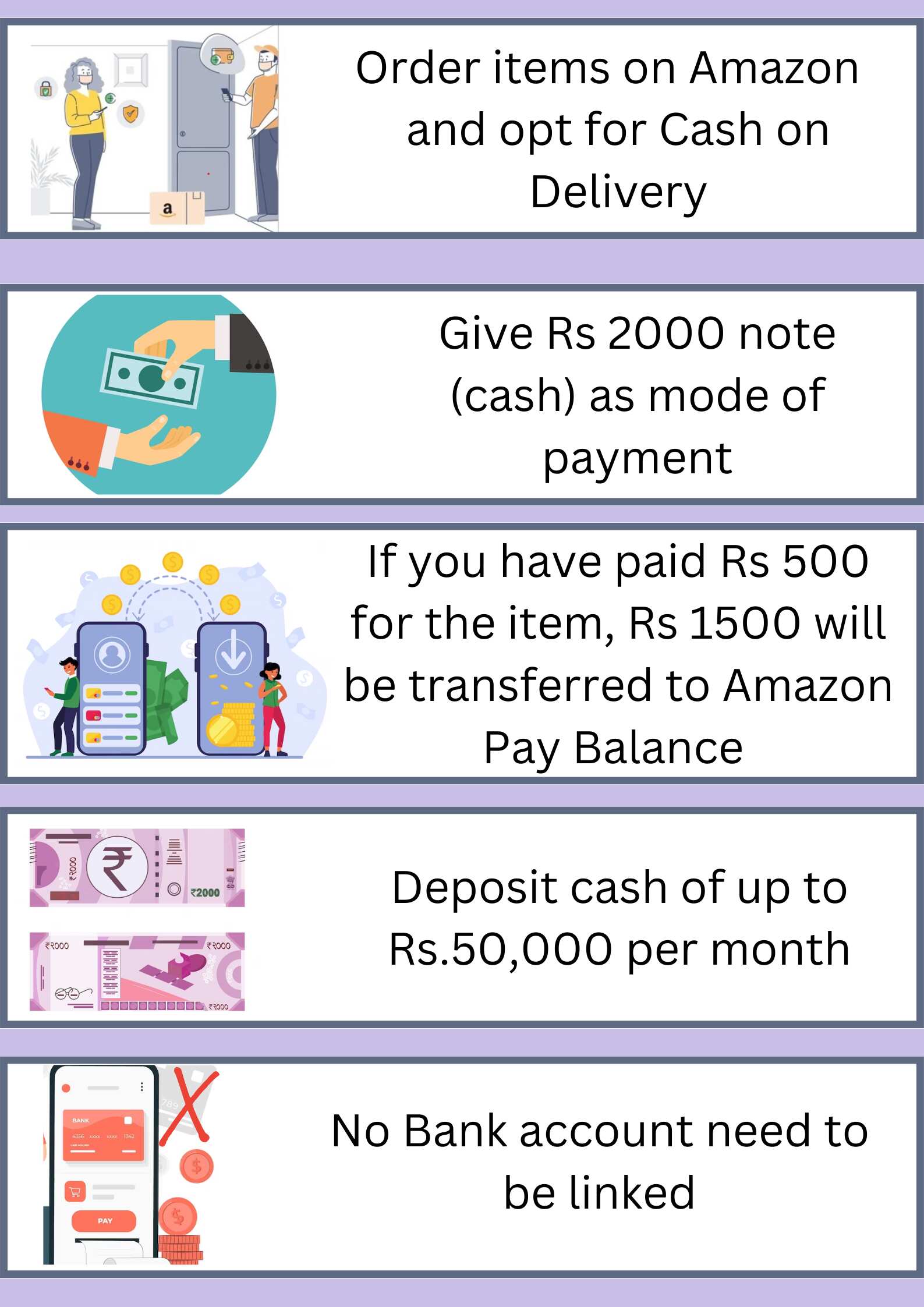 Customers just need to complete the video KYC to ensure the process is completed without any glitches. "To avail this facility, customers have to complete video KYC on the Amazon app which takes approximately 5-10 minutes. Once done, during their next cash-on-delivery order, they can simply hand over the currency notes to the delivery agent. The updated balance will start reflecting in the customer's Amazon Pay balance shortly after," the company mentioned in its release.
The Reserve Bank of India (RBI) had announced the withdrawal of Rs 2,000 currency notes from circulation on May 19 and said that those holding the existing notes in circulation can deposit them in bank accounts or exchange them from May 23 till September 30.