Canada Goose revenue surges amid China reopening
Asia contributed 65% of sales after COVID restrictions lifted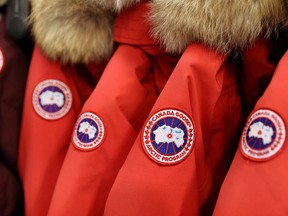 Article content
Canada Goose Holdings Inc. stock jumped nine per cent in premarket after the parka maker's loss narrowed in the fourth quarter and revenue soared more than 30 per cent.
Article content
The Toronto-based company reported on May 18 a loss of $3.1 million, or three cents per share, for the quarter ending April 2, compared to a $9.1-million loss, or nine cents per share, in the same quarter last year.
Article content
Strong growth in Europe and Asia — particularly China — boosted overall revenue by more than 31 per cent to $293.2 million, up from $223.1 million last year.
"This is a testament to the strength of the brand and this momentum has continued alongside early encouraging results in North America in fiscal 2024 year to date," chief executive Dani Reiss said in a statement.
Canada Goose announced a new strategic growth plan in February as it tries to reinvent itself from being known as a trendy puffer jacket purveyor to a lifestyle brand with expanded offerings — such as sunglasses, luggage and home goods — to reach more women and gen Z customers.
Article content
The company operates 51 direct-to-consumer retail stores in Europe, Asia, Canada and the United States. As part of its growth strategy, it wants to double the number of stores with a particular focus on China and the U.S.
China's strict COVID policies had weighed on Canada Goose's revenue last year but since those have been lifted, sales in the region have improved. In the fourth quarter, Asia contributed 65 per cent of sales, followed by 41 per cent from Canada and 27 per cent from Europe.
Canada Goose said a tougher macroeconomic environment in the U.S. weighed on sales but new store openings and a return to "experiential shopping" offset some of the decline. Sales in the U.S. were down 4.5 per cent in the fourth quarter.
More to come …
• Email: bbharti@postmedia.com | Twitter: biancabharti